P(l)atter Recipe 4 — Friendly Biscuits to Share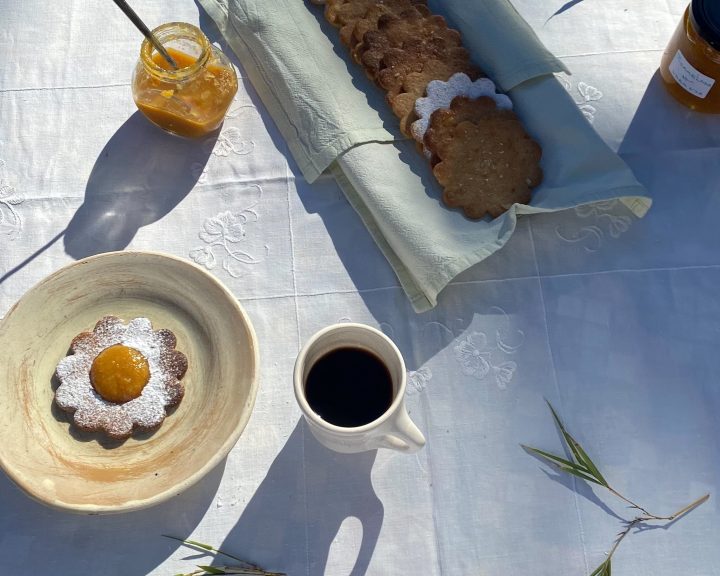 Photography by Zsuzsanna Toth
Words and recipes by Zsuzsanna Toth
A sweet and as-simple-as it gets way to please your friends — and your afternoon. Baked & plated at Casa Balandra.
A long overdue catch up is mostly sweet enough by itself. But sometimes you want to add that extra little something to accompany your hours, smiles and maybe even some salty tears spent together. Biscuits are an obvious choice; Simple and crowd-pleasing — but most of all just enough to not distract, but underline good conversations and a piping hot cup of coffee or tea. This is a simple recipe that can serve as a base for your favourite jam, a dollop of (ice) cream or just by itself.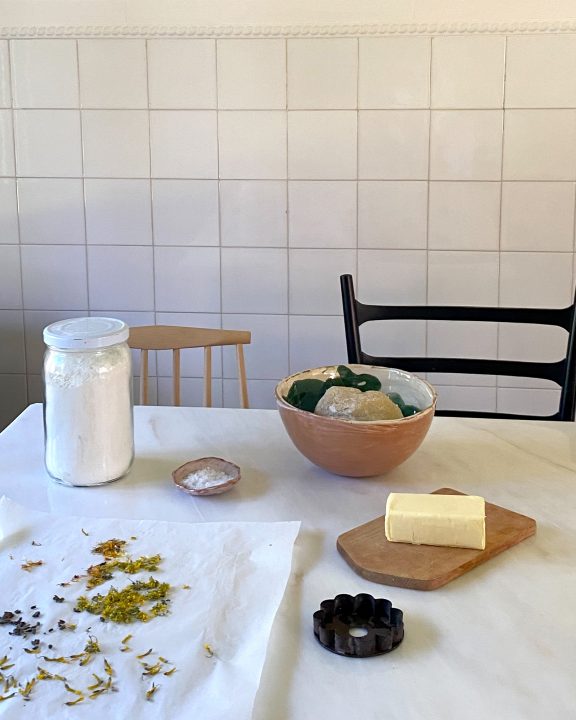 This recipe was inspired by traditional bakeries in Mallorca where I have spent a month this winter exploring local produce, cooking techniques and eating habits. The images were taken at Casa Balandra, a guesthouse and creative residency.
Ingredients
300 g all purpose flour
150 g almond flour
50 g whole wheat flour
220g butter (at room temp)
270 g sugar
1 teaspoon baking powder
1 teaspoon salt
1 vanilla pod, scraped out
lemon zest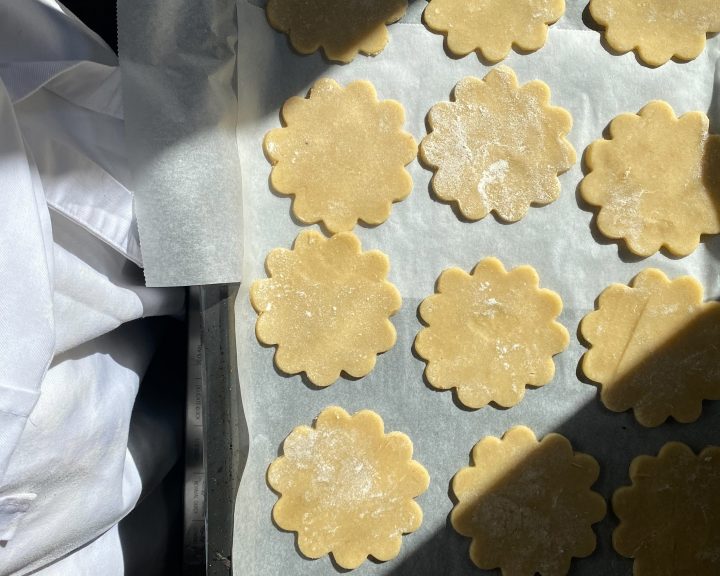 Method
In a bowl sieve together flour, baking powder and salt.
Whip your soft butter, sugar and vanilla until smooth. Add your eggs and keep mixing until it's a fluffy, consistent base.
Add the flour mix cup by cup until no traces of flour or inconsistencies are left.
Form a ball, wrap it in plastic foil and leave it in the fridge for a minimum of an hour and up to a day.
After its fridging time, preheat the oven to 180/350. Roll the dough out with a rolling pin and add some flour (below and on top of the flattened dough). Take your cookie cutting form and cut out double as many cookies as friends. Transfer straight on baking parchment.
Whisk an egg for egg wash.
When all your cookies are cut out, bake them for about 10 minutes. After 5 minutes slide the tray out, glaze the top with egg wash and sprinkle both some Maldon salt and brown or muscovado sugar on top to get a salty caramel finish – because don't we want both all the time?  Bake for the remaining time.
When finished, let the cookies cool for a minimum 30 minutes. Transfer them on your favorite plate and serve with a kettle of nice tea, coffee, a dollop of jam or cream.
Extra nice: Prepare a few cookies for your friend to take home for their morning coffee the next day to think of you and the times you spent together.