P(l)atter Recipe 3 — A Trio of Wine Snacks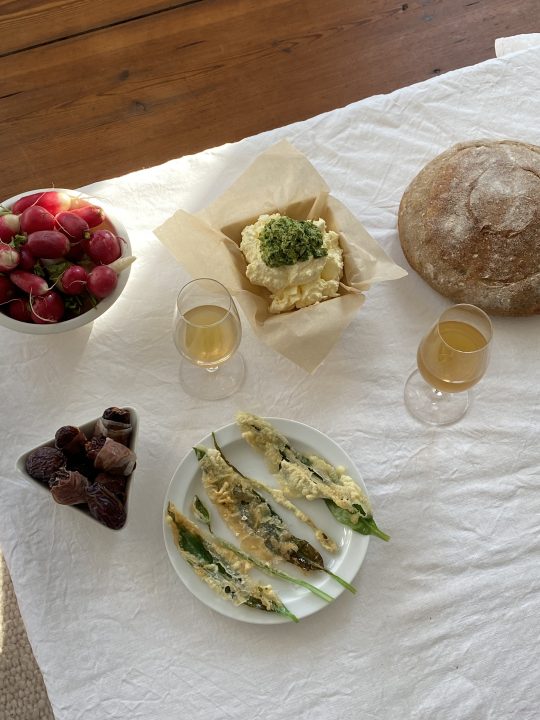 Photography by Zsuzsanna Toth
Words and recipes by Zsuzsanna Toth
"Let's have a glass of wine!" rarely comes without fantasies—dreamy images of a joyful spread, uncover in front of your eyes. A glass of wine is never just a glass of wine—it clings to your evening like you do to your friend, it comes with the sweet dilemma of deciding the right bottle, polishing some glasses and pulling out the cork. But most of all, at least for me, the idea of that "glass" comes with accompanying plates; salty, crispy, soft nibbles inducing complexity from all corners of your mouth; dancing with each sip. The snack options are endless, so here we share a fun trio that have been hitting the right tone for us this month.
Recipe 1: Radishes with Radish Green Butter
Ingredients
— 250 g block of butter, at room temp
— 1-2 bunches of the freshest radish you can find
— 3 Tbsp whole milk or buttermilk
— Salt
— Pistachio and sunflower seeds
— 1 bulb of garlic (roasted, if you prefer a heartier taste)
— ¼ cup olive oil
— Zest of half a lemon
Mix the butter in chunks with the milk and a pinch of salt using an electric or stand mixer. Start at low speed, increasing as soon as the butter mix gets smoother, and keep whisking until fluffy and "cloud-like" (around 5-8 minutes, depending on your mixer). Meanwhile combine the (washed) radish greens, a good pinch of salt, garlic, oil, lemon and nuts in a blender or, as I do, pestal and mortar. You can keep mixing until smooth but I prefer it rather raw and chunky, adding a nice contrast to the soft butter.
Portion the soft butter on your favorite plate, create a hollow on top with the back of a spoon and add the pesto on top. Alternatively, you can also blend the pesto into the butter for a lovely green version. Dip the radishes into the butter and green—add a sprinkle of coarse sea salt on top or just spread the butter on toast.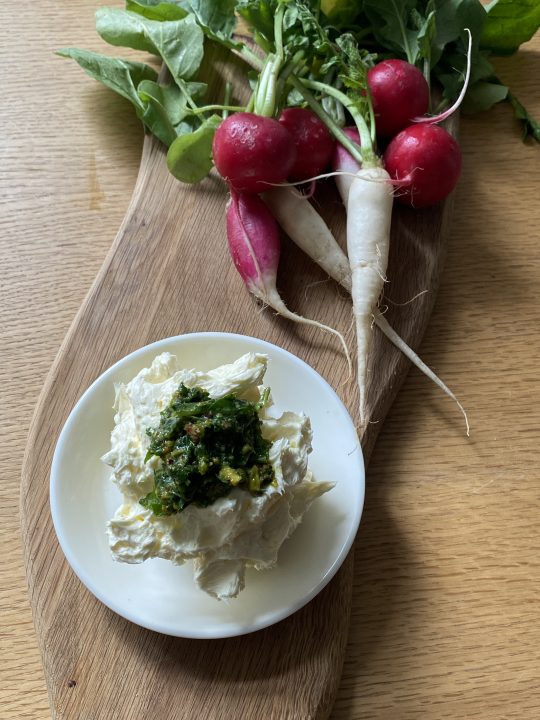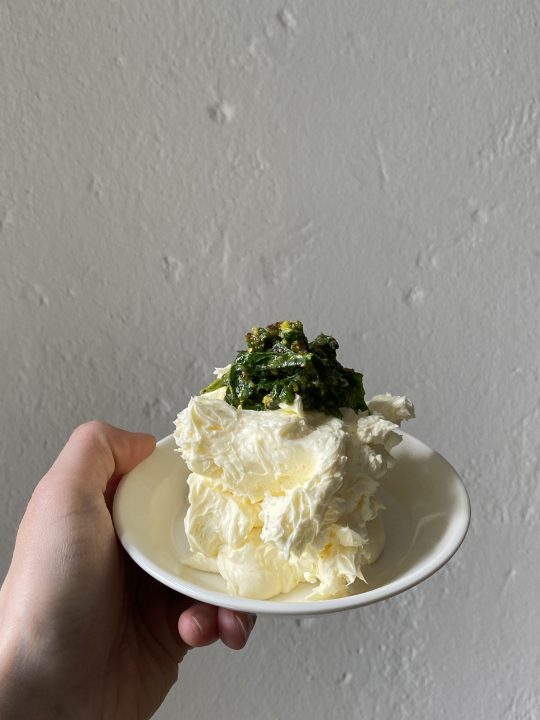 Recipe 2: Wild Garlic Tempura
Ingredients
— One bunch of wild garlic (or any other edible leaf)
— 1 (cold) egg
— 1 cup all purpose flour
— 1 cup (200ml) ice water
— Neutral vegetable oil (like sunflower or rapeseed) mixed with a glug of high quality sesame oil
Use some chopsticks to mix the egg with the (ice) cold water, then the flour. A cold batter is super for it to cling to your leafy greens, so it is important to make the batter just before you start frying. It's important not to over-mix the batter (maximum 20 seconds), a lumpy dough means a fluffy, more airy batter, the consistency should resemble heavy cream.
In a big saucepan heat your oil. Check the temperature with a chopstick and when you see tiny bubbles forming, it's ready for deep frying. Carefully add the battered leaves, making sure they don't touch each other. Fry for about 30 seconds or until golden brown. Transfer to a wire rack or a tray with paper towel to drain excess oil. Enjoy shortly.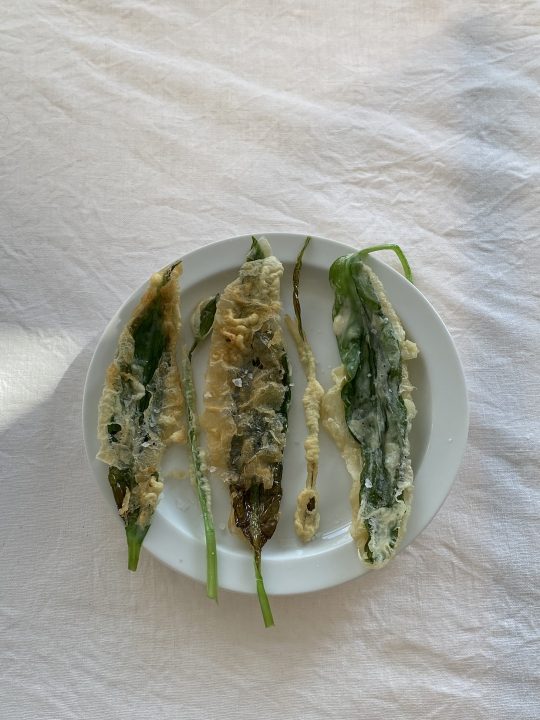 ALL IMAGES BY ZSUZSANNA TOTH
Recipe 3: Prosciutto Wrapped Dates
Ingredients
— However many (medjoul) dates you want
— Half a slice of prosciutto per date
— Optional: fresh goats or sheep's cheese for filling
It can't get more simple than this one, (thus great for making post your first or second glass of wine): Pit your dates and hug them with ham, place in a pan without any oil or fat and sizzle on all sides until crispy—eat immediately! If you feel like cutting through the salty-sweet, fill them with half a teaspoon of fresh cheese before wrapping and consumer while still warm.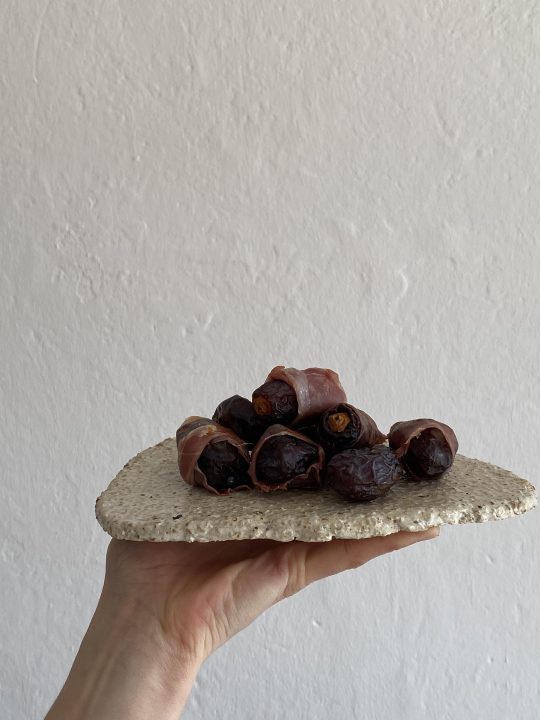 Zsuzsanna Toth is a Berlin based editor, writer and chef. She explores food through the lens of thoughts and words through the (un)predictability of cooking, baking and eating. @zsubidu