P(l)atter Recipe 2 — Banana-Ricotta Pancakes with Buckwheat, Hazelnuts and Jam
Words and recipe by Zsuzsanna Toth
When I think of all my favourite dishes one thing always stands out; a perfect blend of textures. Like a lot of everyday-proof meals, this one was born out of a curious morning foraging the fridge.
Don't be fooled by these humble beginnings, this recipe has an entertaining finale. Pleasure comes with high-quality ingredients and mouth-and-mind blending textures: smooth bananas, crunchy nuts, silky ricotta, and sticky jam. A warm(ing) breakfast is also packed with benefits. Carrying the temperature of your body, it uses less energy to digest, reserving effort for the more important tasks at hand. Pancakes might not be the showcase meal for a super healthy breakfast, but tweaked a little, you can find a perfect marriage of nutrition and gluttony.
Ingredients (for two)
— 2 Ripe bananas
— 2 Eggs
— 2 Big tablespoons of buckwheat and 1 tablespoon of wholewheat flour
— 1 Teaspoon baking powder
— 2 Big tablespoons of ricotta, or more, if you like.
— A Good pinch of sea salt
— Hazelnuts
— Hazelnut oil
— Your favourite jam (blueberry is my choice)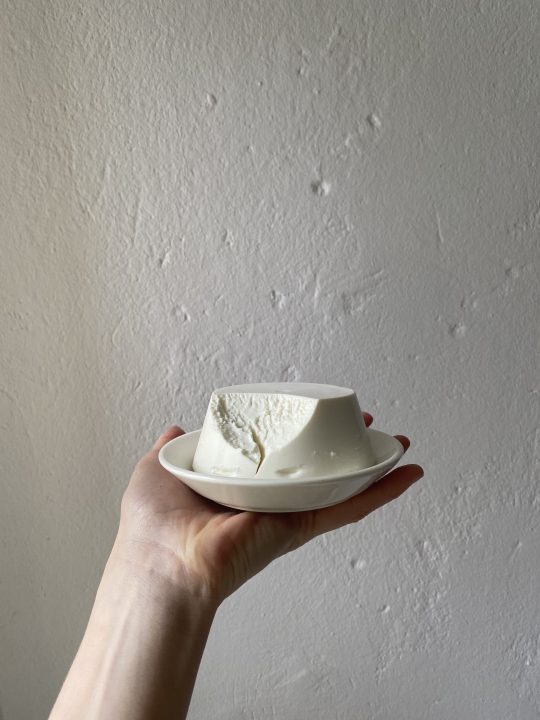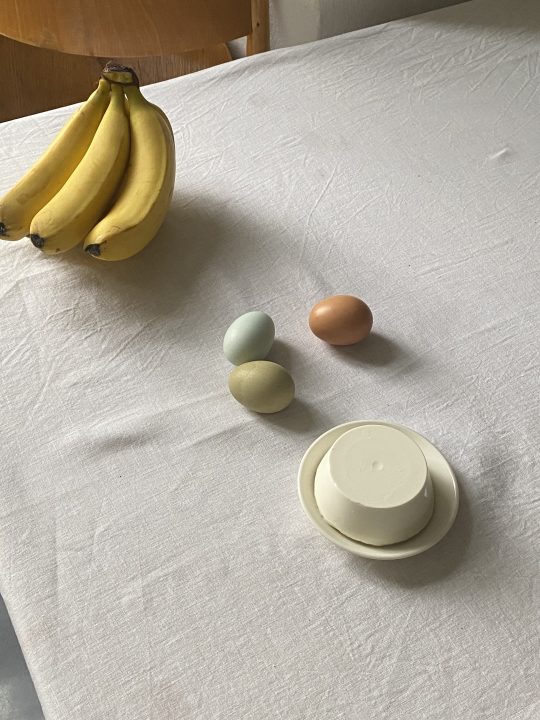 Recipe:
Toast your hazelnuts until glossy and the nutty smell invades your kitchen. Set aside.
Mash the bananas. In a separate bowl whisk the eggs well until smooth and pale.
Blend the flours with the baking powder.
First combine the bananas with the eggs, add the flours and mix well until (almost) homogeneous.
Add ricotta in little cloudy flakes and integrate softly.
In a pan, heat some butter or vegetable oil (almond or hazelnut oil are perfect here).
Add little dollops of batter either "free-floating" onto a griddle or into an oiled tartelette ring and flip when golden brown.
In a warm (but not hot!) oven keep the pancakes warm whilst you finish off the batter.
Add layers of more ricotta, hazelnut butter (if you have!), toasted hazelnuts and a generous spoon of your jam.
Enjoy layer by layer or however you want.
Take more time for enjoying them than for making them. Transfer this idea to your the rest of your day.