5 Facts to Know — Isamu Noguchi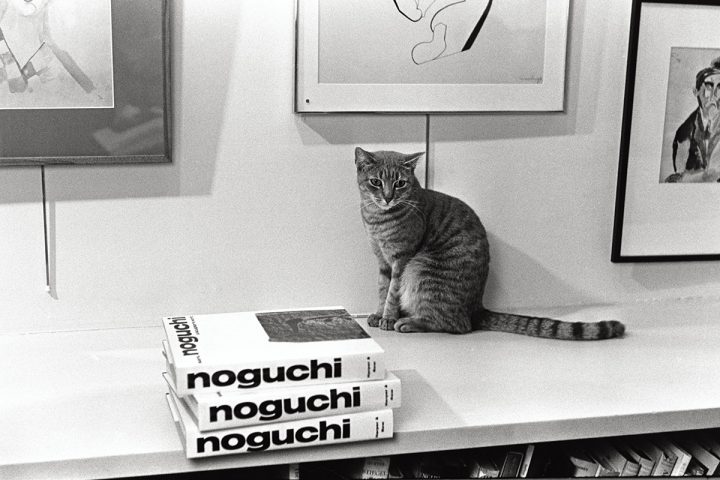 © The Noguchi Museum Archives
by Lauren Cochrane
Google 'Isamu Noguchi' and the first set of results are dominated by shopping links to a coffee table – and its replicas – that he designed in 1944. If the geometric natural forms have become a familiar object of luxury in recent years, there's a lot more to love, and desire, in the work of the Japanese-American artist. With a new exhibition at the Barbican exploring work across sculpture, design, ceramics and stage sets, this is a moment to immerse yourself in the world of Noguchi. Here are five facts to inform your visit.
1. Noguchi was very much the global citizen
Born in LA, the son of two writers, he moved between the States and Japan as a child. Unnamed until he was two years old, his father called him Isamu which translates as 'courage'. After studying at an American boarding school, he lived in Paris, Beijing and London during his life. He also travelled extensively. A room in the Barbican exhibition shows images from his adventures. From photogenic paths in Kyoto to buildings in Le Corbusier's Chandigarh, it looks like an extremely well-curated Instagram feed.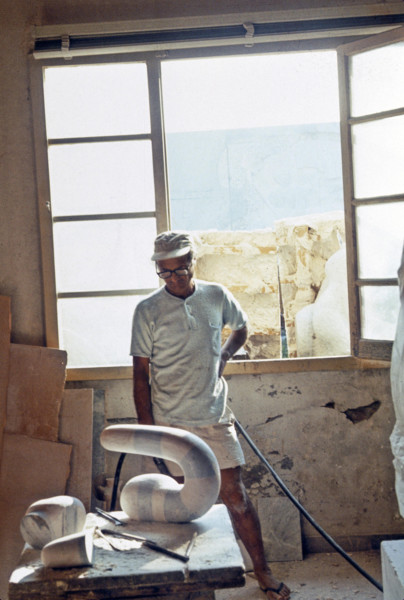 © THE NOGUCHI MUSEUM ARCHIVES
2. His famous Akari lights were inspired by a trip back to Japan
In 1951, Noguchi visited Gifu, the town known for paper lantern manufacturing, and watched a festival where chochin lanterns were lit with candles to illuminate fishermen's boats. When the town's mayor asked the artist to help revive the industry which had suffered in the war, Noguchi was inspired by the fishermen's trick. Substituting the candle for electric light, the Akari were born. Manufactured in Gifu from 1952, they were on the cover of Harper's Bazaar in 1955. By the time he died, Noguchi had made over 100 Akari models.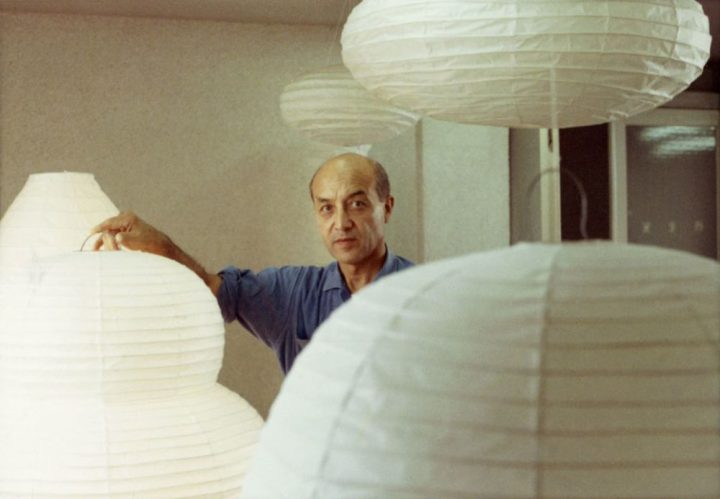 Isamu Noguchi at 32-37 Vernon Boulevard, Long Island City, New York, 1980s. The Noguchi Museum Archives
3. He was friends with a who's who of modernism
Noguchi studied under Constantin Brancusi in Paris, and the influence can be seen in the early work. Man Ray and Alexander Calder were also friends, and he frequently collaborated with A list creatives. He worked with lifelong friend Buckminster Fuller – he of the geodesic dome – on the design of a car that could work on sea, land and in the air. And he collaborated with Martha Graham and Merce Cunningham on sets for dance performances. "I may correctly claim that I am the one who brought sculpture consciousness into theater space," he wrote.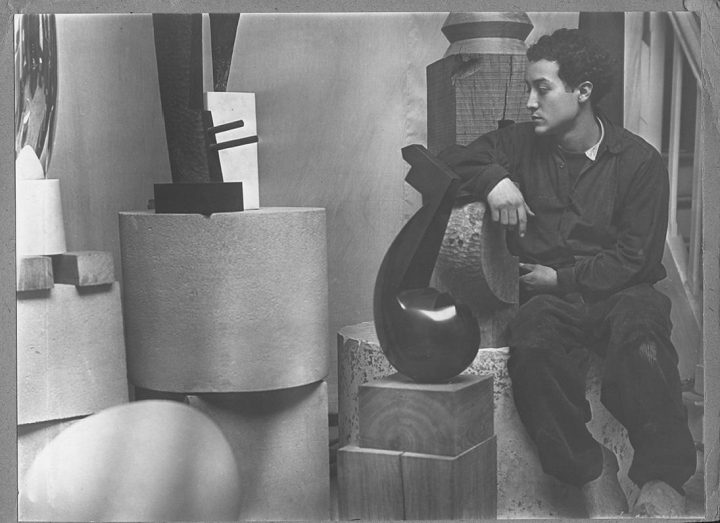 Isamu Nochuchi in his studio in Gentilly, France, c. 1928. © The Noguchi Museum Archives
4. Child's play was important to him
While the artist had none of his own, the world of kids pervaded his work. He designed one of the first ever baby monitors, in 1937, and playgrounds, which he called "primer[s] of shapes and functions; simple, mysterious, and evocative: thus educational." Some of the playgrounds were created, but most remained unrealised, such as one he worked on with Louis Kahn in the early sixties. Moerenuma Park in Japan's Sapporo was an exception. Construction began the year Noguchi died in 1988, and it is still used today.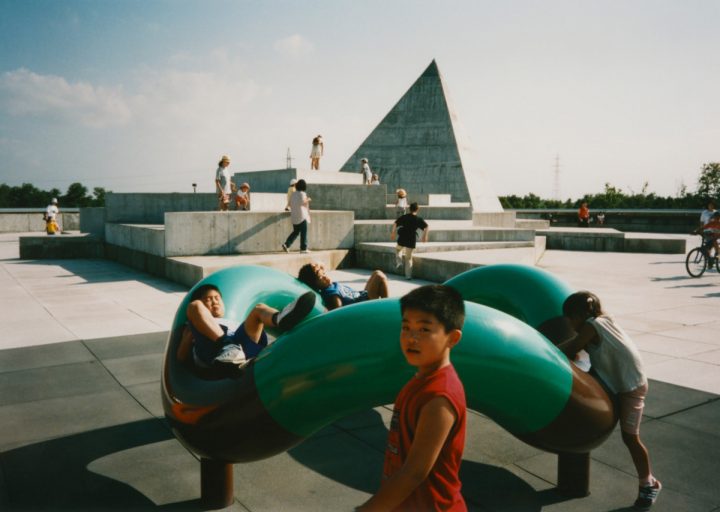 Isamu Noguchi (design) with Shoji Sadao (architect), Play Equipment at Moerenuma Koen, 1988–2004. Sapporo, Japan. ©INFGM / ARS
5. Noguchi was ahead of - and in opposition to - his time
He used his work to comment on social issues, creating a sculpture 'Death (Lynched Figure)' addressing the lynching of Black Americans in 1934, and a tribute to those who died in Hiroshima, in 1982. He also voluntarily joined other Japanese Americans in US internment camps after Pearl Harbour in 1941, serving six months. Racism meant that he was not fully appreciated as an artist until recent years, as did the fact he worked over so many disciplines. This exhibition goes some way to his rightful legacy. For the full effect, the Noguchi museum in Long Island, New York and the Noguchi Garden Museum in Mure, Japan, should be added to all travel bucket lists stat.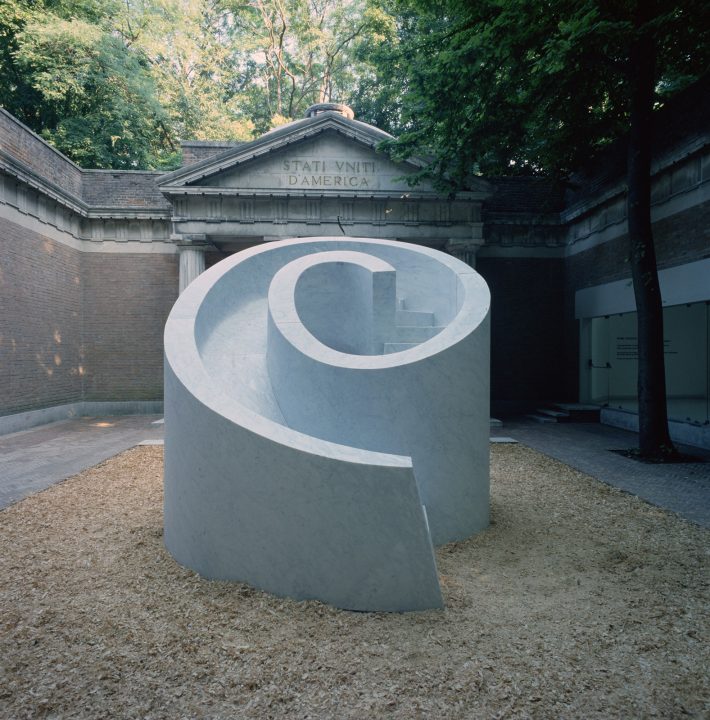 Isamu Nochuchi, Venice Biennale, 1986 © The Noguchi Museum Archives
Noguchi is showing at the Barbican art gallery until Sun 9 January 2022. You can find more information about the exhibit, opening hours and tickets here (advance booking is essential).
Lauren Cochrane is Senior Fashion Writer at The Guardian. Based in London, she also writes for matchesfashion.com, The Face and Grazia. Topics include everything from Marc Jacobs catwalk shows to the legacy of the Sloane Ranger and the connections between football and fashion. @lauren_cochrane_