Patter Places — How to Retreat with Your Aesthetics Intact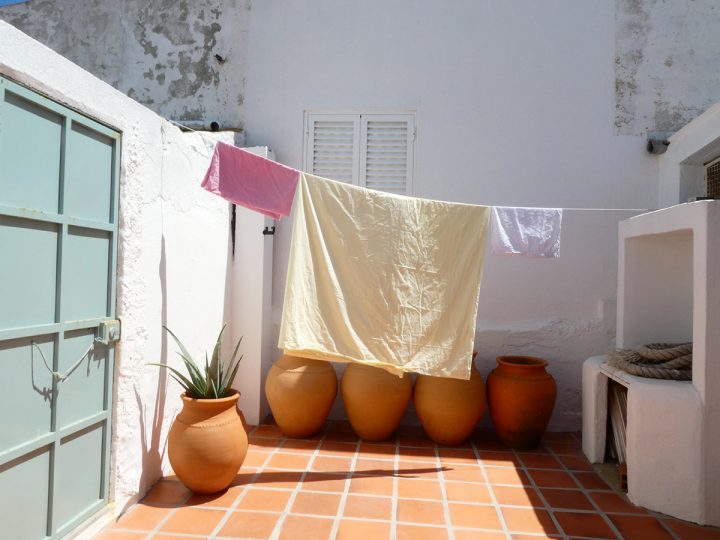 Miramar, Fonte da Telha, Portugal
Words by Lauren Cochrane
Miramar in Portugal, a "temporary home" created by André Saraiva, has solved a problem – it's made getting away from it all a far more tasteful proposition.

In lives so dictated by screens, being truly off-grid has become an aspiration of now, with sleep so fetishised it's almost more prized than any actual possession. Miramar, a new pop-up hotel on the coast of Portugal, plugs into this. It's website promises just three things: "bed. food. ocean". Because, really, what more do we need? 35 minutes from Lisbon, the "temporary home" is a million miles away from breakneck speed living, and all the more desirable for it.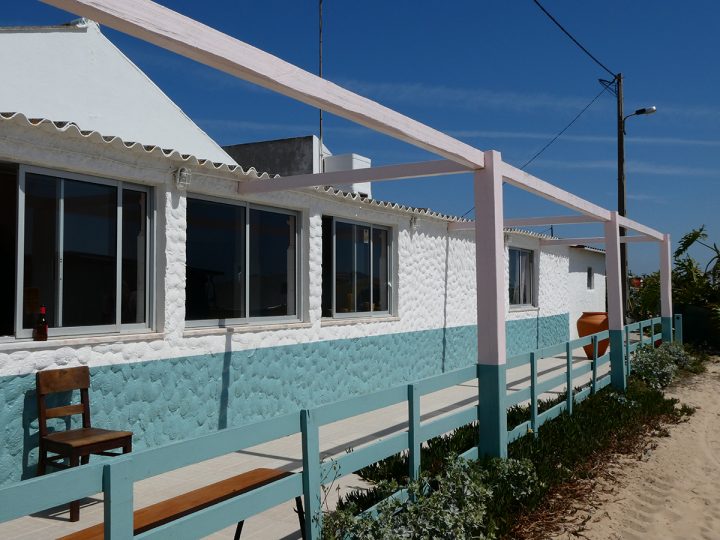 Miramar, Fonte da Telha, Portugal
Don't think this is a yoga-at-5am-followed-by-a-cidar-vinegar shot kind of retreat. It was founded by André Saraiva, or simply André, the graffiti artist known for creating 'Mr A', a stick figure spotted all over Paris from the late nineties onwards (fun fact: its estimated there are 300,000 stick figures in the French capital). His friends have all been brought in to help create an environment that appeals to creatives, but frazzled creatives who want – perhaps they need – time out. Tekla, the Danish brand with a mission to make your bedding more stylish, have worked on the design and environment. The food, meanwhile, isn't just sustenance. Chef Jojo – aka Jo Vavra – uses local, sustainable produce to create what she calls "multi-sensory experiences, caring for taste, smell, aesthetics and vibes."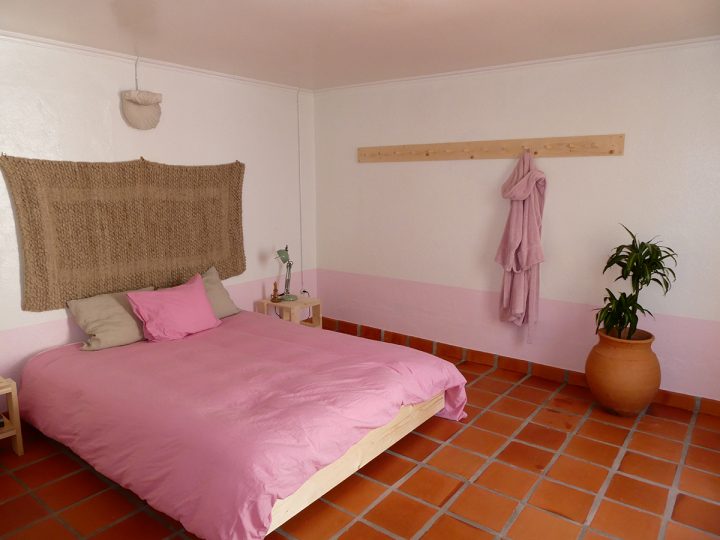 Miramar, Fonte da Telha, Portugal
If that sounds good on paper, it's even better IRL. Miramar is a getaway designed for the kind of people who dream about living at Kettle's Yard, with Le Corbusier's Cabanon as their holiday home. Natural materials dominate – from woven sunshades to bleached wood coat racks – and there's the odd detail for homeliness, like a perfectly placed piece of local crockery, or a palm in a terra cotta pot. The floors have natural tiles, the walls are white with touches of turquoise, and the Tekla bedding and robes are pink. It's confident in its plainness, and it looks all the better for the kind of light found on the ocean shore. This is, in short, a place where we'd like to be, any time in the July to September season.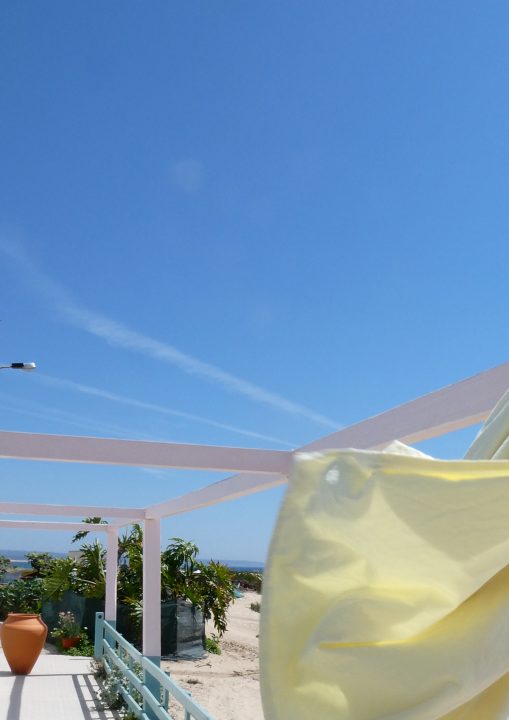 Miramar, Fonte da Telha, Portugal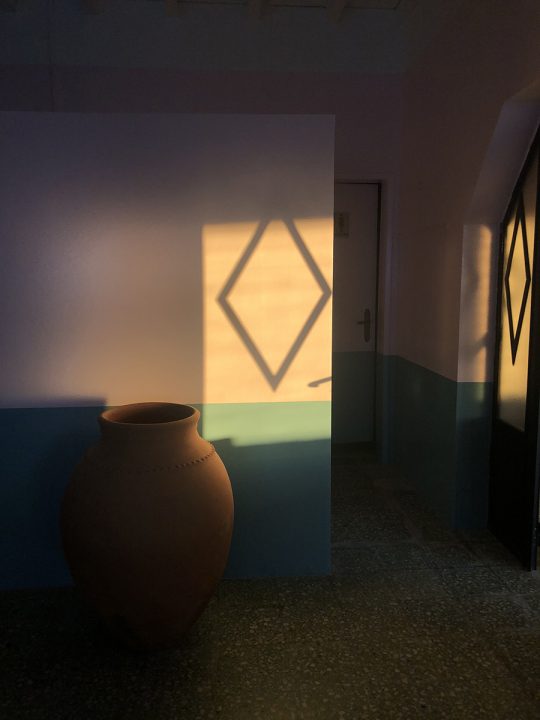 Miramar, Fonte da Telha, Portugal
The actual location – as in the one found on totally-not-allowed Google Maps – is Fonte de Telha, a fishing village that Saraiva describes as "full of authenticity". Here, the artist, who has previously worked on the (pun-intended) much-loved Hotel Amour in Paris, pared things right back. He found an old cafe – literally on the shore, and "one of the first built in the village" – and turned into a three bedroom place, complete with eating area to enjoy local organic food and freshly caught fish while watching the sunset. With a maximum capacity of six people, the result is a place where it's almost impossible to feel overwhelmed. Instead, its the simple life done in a stylishly simple way. Days will consist of swimming in the ocean, reading on the terrace, and sinking into one of those Tekla robes at the end of the day to watch the sun go down. Doing the off-grid thing with style? It is possible, it seems.
petitemiramar.com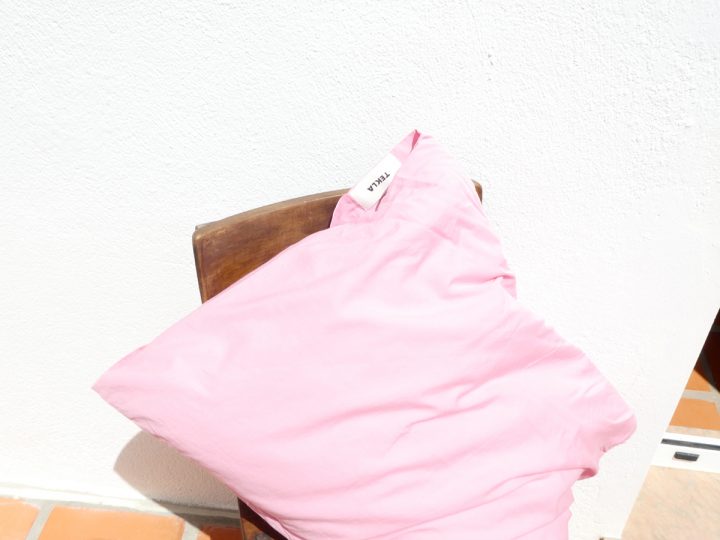 Miramar, Fonte da Telha, Portugal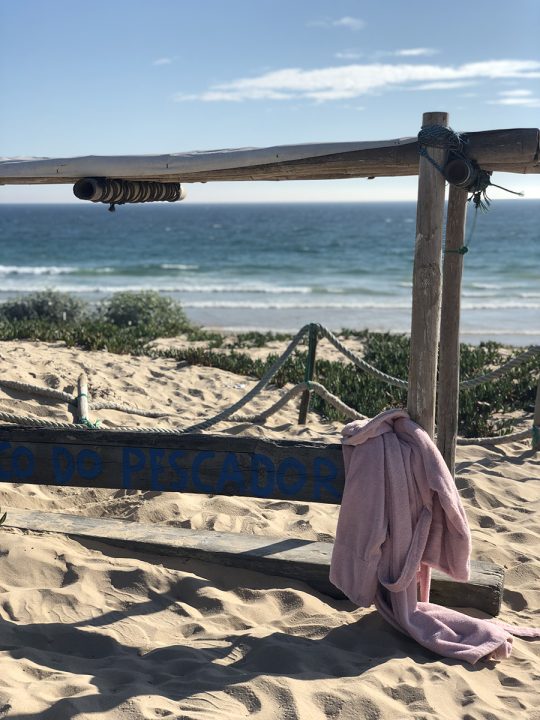 Miramar, Fonte da Telha, Portugal
Lauren Cochrane is Senior Fashion Writer of The Guardian. Based in London, she has worked for Vogue, i-D, The Telegraph and InStyle. She now writes about everything from Marc Jacobs catwalk shows to band T-shirts and the fashion influence of LouLou de la Falaise.