Beauty Practice — A Simple Guide to a Desirable Red Lip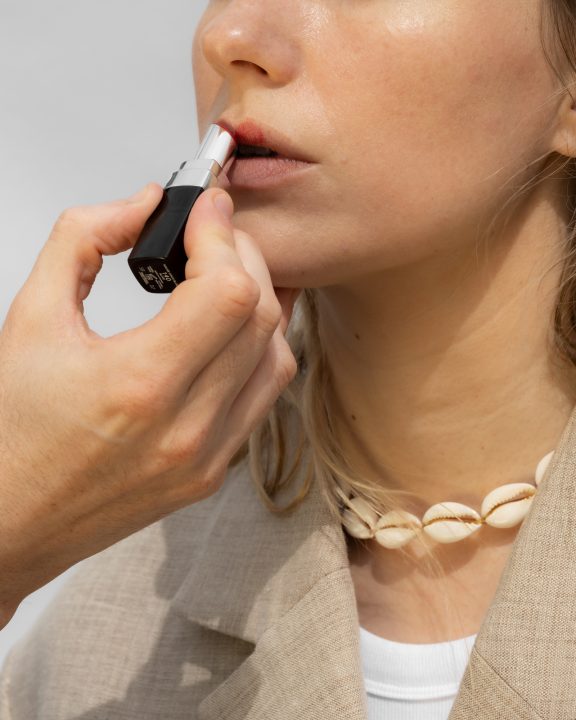 Photography by Sophie Gladstone for Patter
Words by Thom Walker
A new Patter series dedicated to simplifying our makeup bags and indulging its pleasures. Chanel UK makeup artist Thom Walker shares a how-to for wearing, applying, and preserving a modern red lip.
Wearing a bold lip can be a minimal process, as well as a bold statement. I like to think of it as having the same visual impact you get from going to a gallery and and seeing a piece of modern art suspended in a room of simple blanc walls. Preparing yourself for a red lip can be such an enjoyable process—I like to start with a clean fresh face.

Step 01 — Prepare
Using your favourite moisturiser and serums, make sure your skin is clean, hydrated and plump. Apply a little extra serum on the high points of the face, cheekbones temples and down the centre of the nose.
Next prep your lips using the Kiko Pure Clear & Scrub Wipes, great for removing dead skin to leave a perfectly smooth surface for your lipstick. Now, it's time to grab a Q tip and generously apply Chanel Hydra Beauty Nutrition lip balm—do this about 10-15 minutes before you are ready to apply your lipstick.
I like to apply a little concealer around the nose and chin, it's important to remove any unwanted redness in the skin when wearing a red lipstick—this helps create balance on the face. On darker skin tones you might need to lift the skin a little, any flat or slightly greyer areas, you ideally want to put warmth back in the skin. Using a slightly warmer concealer can help brighten your skin without having to use foundation on all areas of the face. Focus again on the corner of the eyes the forehead, nose and chin. I recommend using a long wearing concealer like Le Correcteur De Chanel as this will save you time touching up later.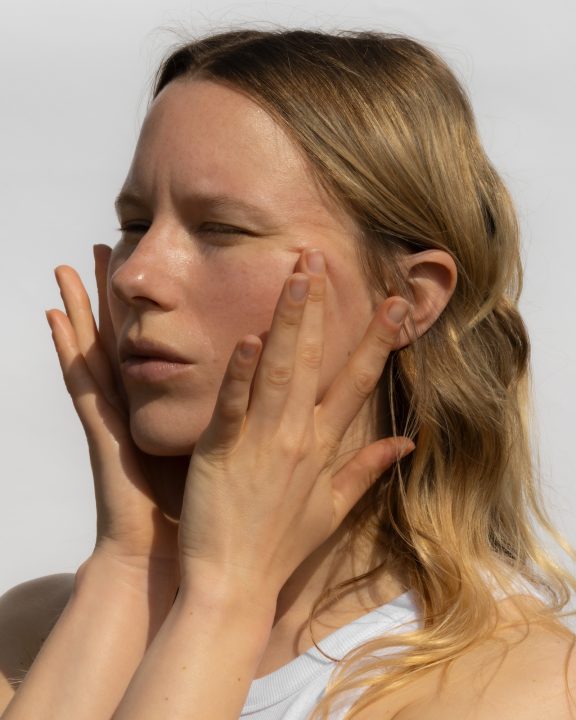 Step 02 — Apply
Now you're ready to apply Rouge Coco Bloom in shade Alive. Use a small compact mirror that can move with you, not only does this help you achieve the right shape in the right light, it's also great if you need to touch up throughout the day.
Next it's time to map out the shape. I start with 3 light stamps—two on the cupid's bow and one on the centre of the bottom lip. This helps you see the shape you're working with—think of it a little like dot to dot.
Next you want to start filling in the rest of the mouth and building up the colour and for this I use a lip brush. I like to leave the corners of the mouth to the end, it saves time on clean-up and helps you achieve a more even shape. Once you have filled in all your lips, check the shape by closing your mouth and rolling your tongue across your teeth. This helps you see if you've gone over the lip edge—if you have, do a simple clean up using a small Q tip.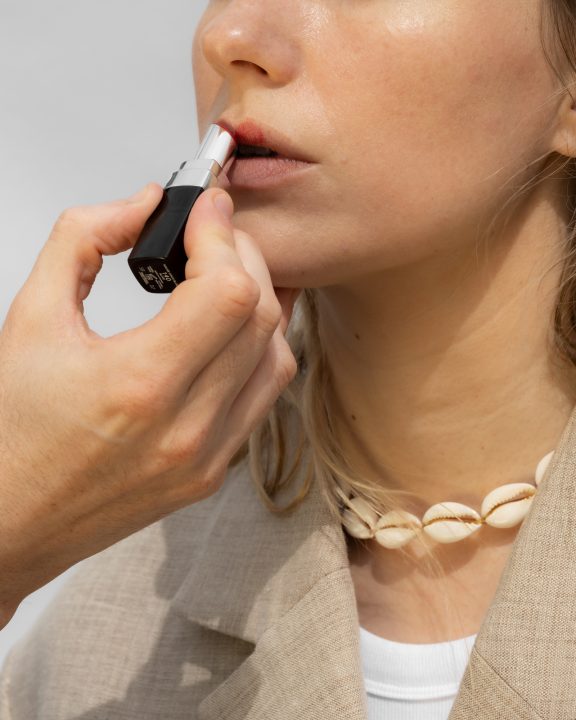 Photography by Sophie Gladstone for Patter
Now you have your desired shape you can use the lipstick to build up the colour again using the stamping method—this helps you to intensify the colour. Rouge Coco Bloom is a hydrating and plumping lipstick that instantly locks colour in place for an intense long wearing finish. The final look is a semi metallic finish that attracts light to your lips, leaving a spectacularly sculpted, shiny finish.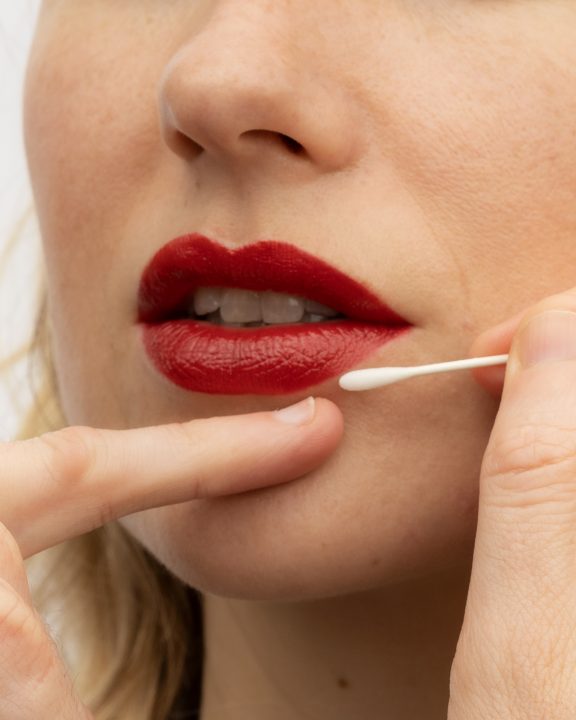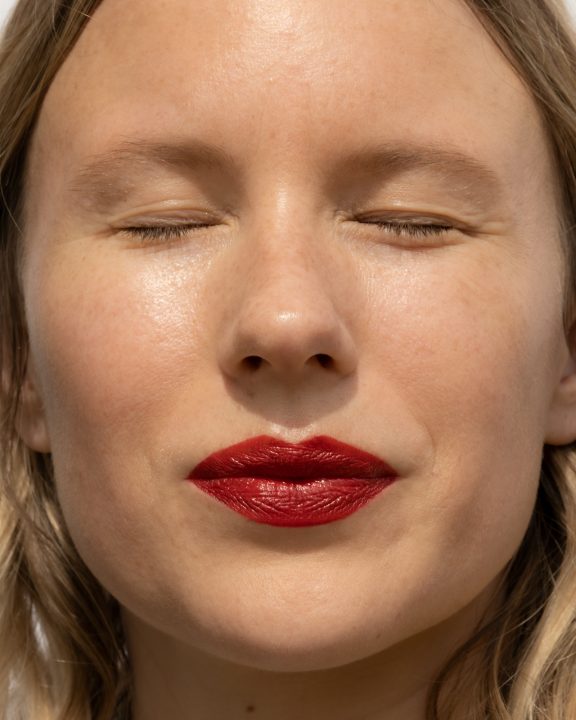 Step 03 — Preserve
To help your lipstick stay on even longer—blotting will help even colour saturation, and allows you to build up any lipstick (sheer or glossy finishes) in-between each application. This will give your lipstick ultimate longevity. I recommend a thin tissue or just 1 ply from any tissue. My last tip—I like to comb the brows or apply a little brow gel for a minimal yet groomed look.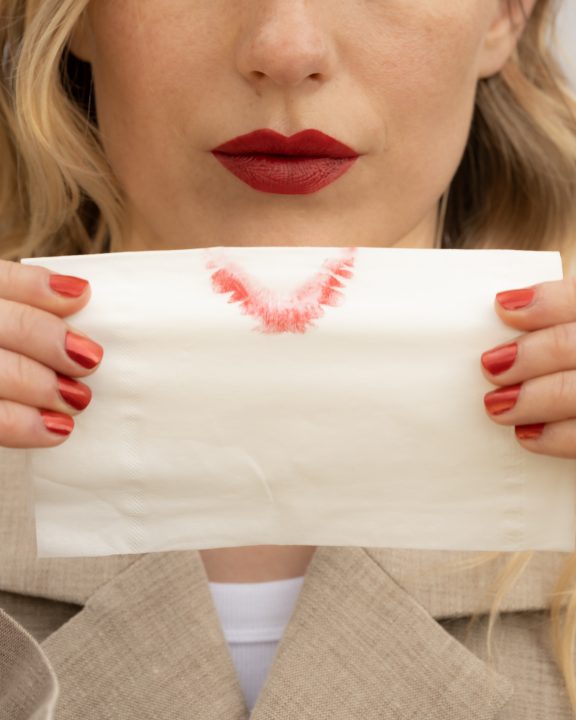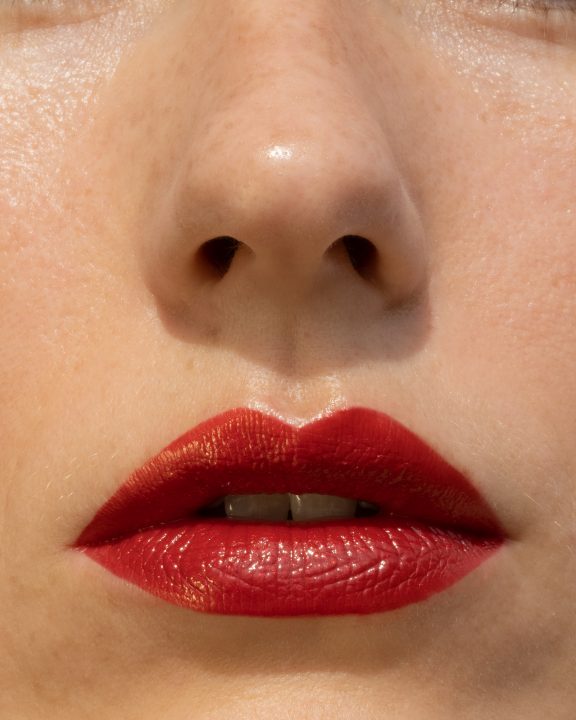 Georgina wears an oversized suit jacket from Acne Studios, draped over Totême's wonderfully soft Curved Rib Tank, and accessorised with a Puka Shell Choker by Tohum. Manicurist Saffron Goddard prepped Georgina's hands with the Byredo Vetyver Hand Scrub, she used Chanel's metallic Le Vernis 887 nail polish and the handbag friendly Chanel La Crème Main.
Creative Direction — Ellie Hay
Photographer — Sophie Gladstone
Makeup — Thom Walker for Chanel Beauty
Hair — Simone Mason
Nails — Saffron Goddard
Casting — Abi Corbett
Model — Georgina Hill at JM Scouting
Thom Walker is makeup artist for Chanel UK. His work draws on art history and architecture, and has been published in magazines including Vogue, Re-Edition, Dazed and The New York Times. A keen gardener, Walker resides in East London, and can often be found cultivating his garden, or preparing nibbles in the kitchen for friends. @thomwalker