A Simple Side Dish from The River Cafe Look Book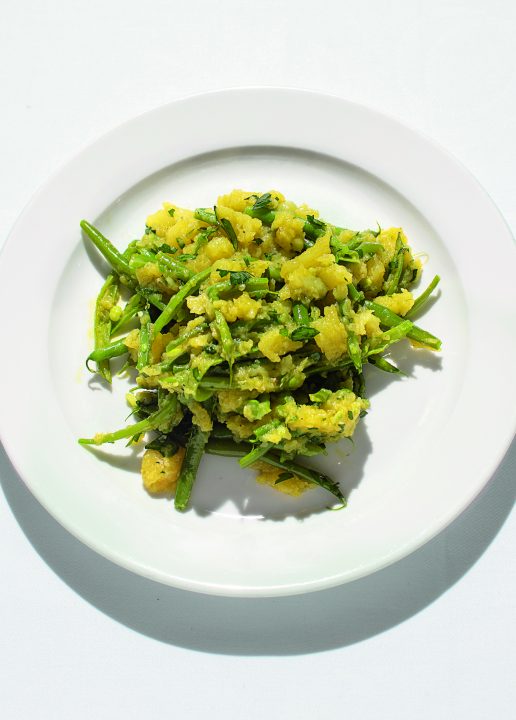 Photography © 2022 by Matthew Donaldson, Courtesy of Phaidon
by Ellie Hay
The latest cook book from The River Cafe is a collection of achievable Italian dishes, easy to source and prepare, on your own, or with the family in tow. Aimed at beginners and kids "of all ages" the book, written by by Ruth Rogers, Sian Wyn Owen, and Joseph Trivelli, celebrates the process of cooking and the joy of creativity on a plate. Here, we share the recipe for a simple but agile side dish, ideal for spring.
Smashed Potatoes with Green Beans — Serves 4
Ingredients
— 1.3kg (3 lb) waxy potatoes such as Charlotte or Fingerling, peeled
— sea salt and freshly ground black pepper
— 200g (7 oz) fine green beans
— 100g (1 ½ cups) freshly grated Parmesan
— 75–100ml (2 ½–3 ½ fl oz/⅓–½ cup) extra-virgin olive oil
Equipment
Scale
Measuring cups
Vegetable peeler
Grater
2 large saucepans
Colander
Large bowl
Fork
Instructions
Cook the green beans well, not al dente, so they combine nicely with the potatoes.
1. Put the potatoes in a large saucepan, then cover with salted water and bring to the boil.
2. Reduce the heat and simmer for 25–30 minutes until the potatoes are easily pierced with a fork.
3. Bring another pan of salted water to the boil.
4. Add the green beans to the pan, boil for 5 minutes and then drain and set aside.
5. Drain the potatoes, then put them in a large bowl.
6. Mash using a fork or potato masher until there are no lumps.
7. Add the green beans to the potatoes and mix well.
8. Add the Parmesan, olive oil and a pinch of black pepper and mix in with the fork.
Excerpted from The River Café Lookbook, Recipes for Kids of all Ages © 2022 by Ruth Rogers, Sian Wyn Owen and Joseph Trivelli.