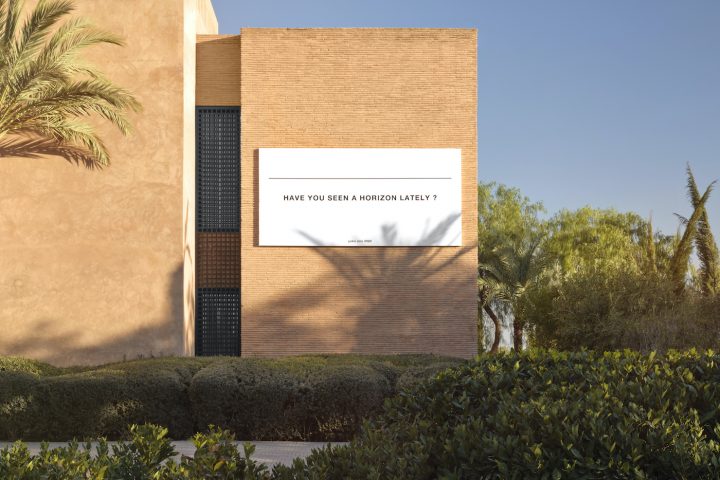 Have You Seen A Horizon Lately at MACAAL, 2020 © Omar Tajmouati
Our monthly playlist of important female artists and their songs for right now.
This year, the Museum of African Contemporary Art (MACAAL) in Morocco opened an exhibition named after Yoko Ono's 1973 song, 'Have You Seen A Horizon Lately?'. The show sees a global collective of artists question their lived environment, "in a sensitive and committed way" — a fitting subject for right now, and one that prompted an exploration of Yoko's back catalogue. In London, Brazilian musician Gal Costa was due to play at the Barbican, and with that on hold, we felt it only right to close our latest playlist with her track Deus É O Amor. Our selections for now are designed to bring some optimism, with soothing notes from Jessica Pratt and disco climaxes from Oby Onyioha's appropriately titled Enjoy Your Life. We hope you do!
Tracklist
Lay Back — Nautic
Check 4 U — Bô'vel
Why Don't You — Cleo Sol
Back, Baby — Jessica Pratt
Express Your Love — Sweet & Innocent
Enjoy Your Life — Oby Onyioha
I've Got To Fina A Way — Halleluiah Chorus
Estrelar — Os Flippers
Ah Ndiya — Oumou Sangaré
Easier to Love — Sonia
What Goes Around Comes Around — Sun Runners
Ain't Nobody – 12″ Mix— Yvonne Archer
Trust, In Love — Anna Domino
Why Should I Love You? — Kate Bush
Cinnamon — Fatima, Floating Points
Have You Seen a Horizon Lately — Yoko Ono
Deus É O Amor — Gal Costa