Things — Alvar Aalto Vase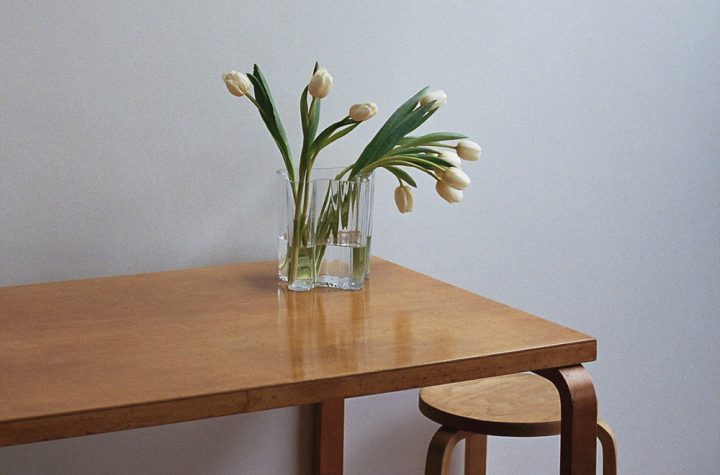 Photograph by Ruby Woodhouse
Words by Claire Walsh
Let us convince you of two things you need in your life: more flowers and an attractive vase to put them in. Look no further than the Aalto Vase because beyond it's immediate beauty, this piece has design classic credentials.
Created in 1936 by modernist architects Alvar and Aino Aalto for a glass design competition, the shape was inspired by the shoreline (Aalto happens to also mean wave in Finnish). Its undulating, curves won first prize, and the design has been in production ever since, with each piece mouth blown in Iittala's glassworks in Hämeenlinna, Southern Finland.
The vase's organic lines became a calling card of Alvar Aalto's style, and are evident in buildings like the Viipuri library and the Paimio chair (still produced by Artek today). Just as the Aaltos' work has become synonymous with the modernist movement, and reached far beyond the shores of their native Finland, this vase has become synonymous with the architects.
Here are suggestions to fill the vase. We opt to stick to a single type of flower or max out at three varieties; this keeps the look neat and chic. Change the water daily to keep flowers fresh and water clear.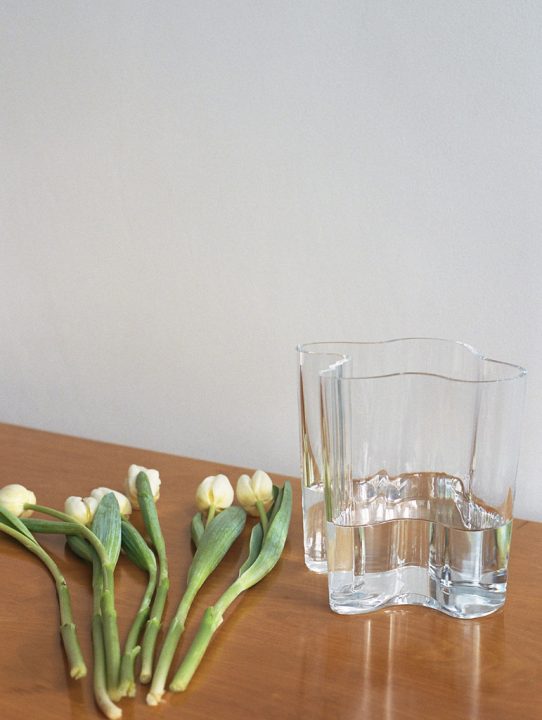 Photography by Ruby Woodhouse
Step One
Take a bunch of humble supermarket-bought tulips, and strip off excess leaves (this step is essential so flower heads are not lost in a mass of green). Cut the stems so they stand roughly twice as high as the vase. Loosely place the stems in the vase, filling inward; do not overfill.
The heads will bend the stems as the flowers age, so leave them to drape around the curves of the vase, and let the petals fall. If you feel adventurous, use fewer tulips and lay them in one direction for a more asymmetric look.
Step Two
Choose a stronger steam, such filler flower like delicate Baby's Breathe or fern-like Leatherleaf. Strip lower stray leaves away and cut the stems so the head of the flower or leaf stands clear of the top of the vase. Position these stems so they stand in one side of the vase; here use a metal frog (if you have one), or let the stems support each other. Here the beauty is the negative space, so that the full silhouette of each stem and the vase is to be enjoyed.
Alternatively left empty this vessel's sculptural shape means it can hold it's own on any shelf or table. The Aalto Vase is available at Skandium and prices range from £58 – £149, depending on the desired size and colour.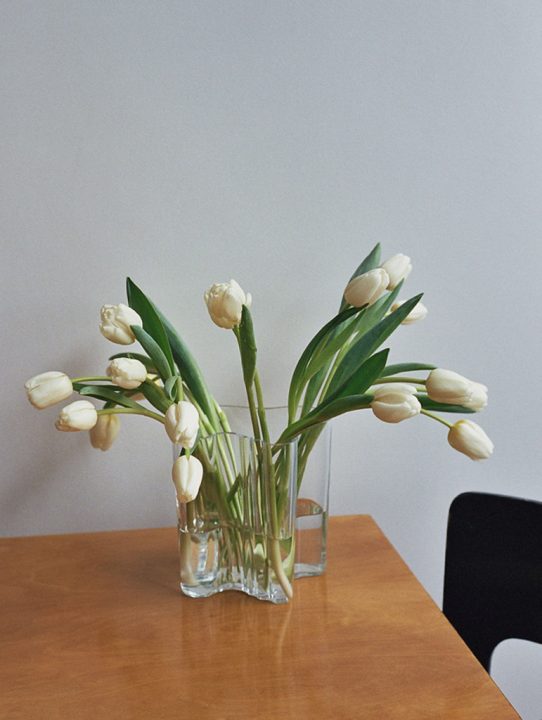 Photography by Ruby Woodhouse
Ruby Woodhouse is a photographer and co-owner of London-based interiors practice 1934. @ruby_woodhouse
Claire Walsh is a design consultant, writer and interior stylist. Born in England and living in Los Angeles, she has contributed to Sight Unseen, Wallpaper and Elle Decoration. @clairevwalsh