Body Scrubs for Feel–Good Summer Skin
Words by Ellie Hay
With the revealing summer wardrobe season upon us, there are some beauty rituals worth taking your time for. 
Starting with the basics and inspired by the Korean "seshin", a weekly body scrub is a wonderful way to relax and achieve feel-good summer skin. We researched four brilliant scrubs and some pleasing bathrooms to match.
Susanne Kaufmann Body Scrub
Using active organic ingredients rooted in the healing remedies of the Austrian Alps, this brand focuses on soul-and-skin soothing products. A nourishing and calming scrub that contains fine sea sand, pumice powder, black-eyed susans, St. John's Wort, echinacea, pansies and honey – all working to cleanse and improve circulation to support the natural renewal of the skin.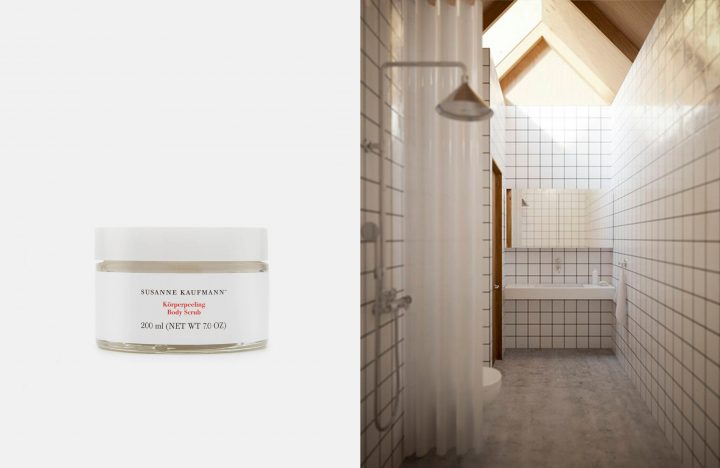 Susanne Kaufmann Body Scrub. House for Mother by FAF Architects
Sans Ceuticals Bio Active Body Exfoliant
This delicate exfoliation uses ginseng, cell rejuvenating vitamin E, reishi mushroom and a base made from ultra-fine granules and organic shea butter. The results are boosted hydration, minimised pores and smooth and plump and skin (basically our ultimate skin goals). Made in New Zealand from 100% biodegradable ingredients, 100% recyclable packaging and with a strong conscience for sustainability. Sans Ceuticals scientists believe there is no hierarchy between the skin on your face and skin on your body – both require the same calibre of ingredients, so enjoy this intelligent scrub all over.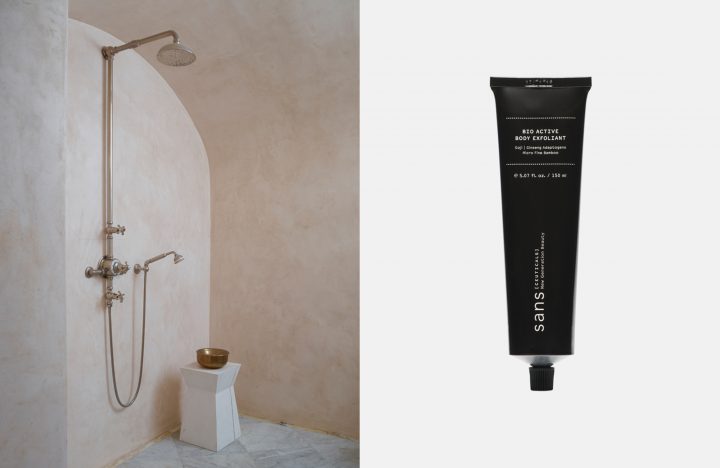 Pimlico House by Rosie Uniacke. Sans [ceuticals] Bio Active Body Exfoliant
French Girl Sea Polish – Rose / Verveine
Certified organic and vegan-friendly, this subtly scented scrub has an exquisite texture that leaves your skin hydrated and smooth. Made in small batches in on a Seattle farmstead in the Pacific Northwest, this plant scrub blends rose and bergamot with Atlantic sea salt and sugar, coconut butters, rose and verveine essential oils.
La Maison Louis Carré by Alvar Aalto. French Girl Sea Polish Rose/Verveine
Binu Binu Seshin Korean Scrub Soap
This 100% natural exfoliating soap is inspired by "seshin", the revelatory Korean body scrub experience. Black sesame seeds create a natural exfoliation, while ultra-fine washed blue clay derived from volcanic ash and remineralising sea salt draw out impurities. You can use the soap on your face and body – the result is super-soft and clean skin (and minimal packaging waste).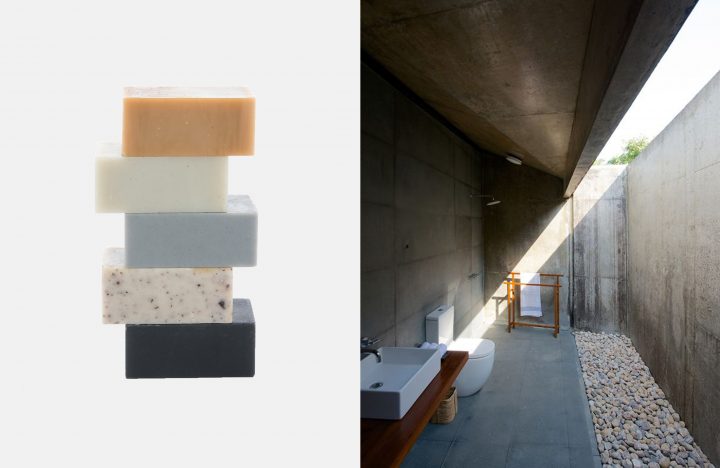 Binu Binu Seshin Korean Scrub Soap. House on a Stream, Alibag, India, designed by Architecture Brio