In The Frame — 77 Broadway Market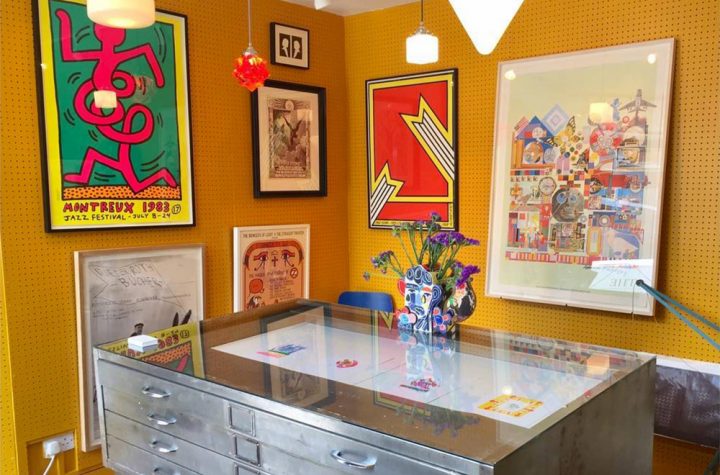 Inside the store at 77 Broadway Market
The unique east London store that has made finding your dream objects their reality.
Words by Ben Perdue
For many people their gateway to discovering 77 Broadway Market is the regular update of vintage posters on the store's website. An uber rare, considered and instantly sold out mix of artwork promoting tours, club nights, films and exhibitions – the closest most of us will ever get to seeing The Smiths live, or dancing at the Haçienda. Cultural artefacts you can hang on your wall. But beyond the framed ephemera there's a fascinating haul of one-off objects and textiles to explore behind the doors of Anna Howard's tiny east London shop. A place where each piece is as unique as the next, and has the backstory to match.
77 started out as a spin-off from local institution Donlon Books that could explore projects outside the world of publishing. Bristol-born Howard, who graduated from the London College of Communication's niche Book Arts and Design course, met Conor Donlon working at his eponymous bookshop and together they opened its sister store, 77, in 2015. What makes the things they sell special, beyond the obvious aesthetic appeal, is that each has been picked for its story, not because it ticks the latest interiors trend box. Howard is dedicated to working with current artists and makers, too, commissioning exclusive new designs and editions that offset her vintage sourcing with a fresh contemporary edge.
Here she tells us about what drives her research, the importance of community, and picks three things she loves from the store right now.
Are there any rules or criteria for what goes into the shop?
No rules, but there are reference points for everything that comes in. There's always a cultural, social or an aesthetic jumping off point, but I suppose before that process there's an emotional connection to the item. The things I bring in are objects I'd like to have around me, but I get a greater sense of satisfaction from sharing them with others.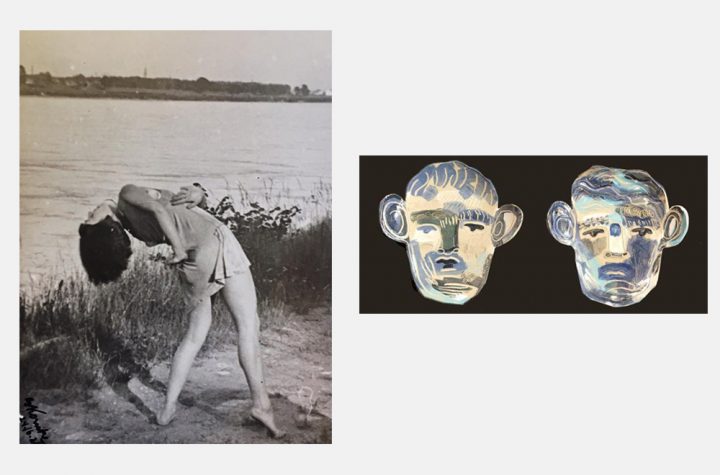 77 Broadway Market – Expressive Dance, 1928. Ceramics by John Booth.
Do some things always prove popular?
Most of what we sell has had a previous life, so I definitely notice waves of interest in types of items, but I try not to pay too much attention to what's popular. I mean, if we have an original Haçienda poster in the shop you'll find a lot more music lovers visiting, and people who went to the club when it was open. The conversations off the back of that are always interesting.
Which object gets the biggest reaction in-store?
The traditional Romanian masks got a big reaction. We had two very old ones that had belonged to one family and would have been used in ritual dances. Most people's reaction was either laughter or fear, the imaginary characters looked like they were plucked from some archaic world, but had these joyful big mouths and wooden teeth.
"I like placing objects together that don't share the same references, but look like they're in conversation."
Anna Howard, 77 Broadway Market
Is there a secret to creating the perfectly curated space?
I wouldn't use the word curated because that would imply a direction. I can't quite put my finger on what makes it work, other than intuition. I like placing objects together that don't share the same references but look like they're in conversation.
Which has been the one piece you've been most excited to unearth?
I'd probably say the 1968 semi-circular Merce Cunningham Latin American tour poster designed by Frank Stella. I'd seen it during my first trip to Japan and obsessed over it. I was sad to see that one go, but these things come around again eventually.
Is making your own pieces something that you hope to explore more?
Oh totally. We'd always planned to make our own pieces. It's something that I want to make more time for. In the past we've commissioned practitioners John Booth and Will Yates-Johnson and there's a couple of things in the pipeline. There are also some smaller, simpler ideas that we'd like to come to fruition.
Are you ever asked to work on projects like dressing event spaces, or lending props for shoots?
We have on occasion. The shop feels quite community based, so we've loaned things out to people when it felt right, and at other times collaborated on projects to research and find the right items.
What exciting things does 77 Broadway have coming up?
More travel, more research and to see what evolves from this. And we should see the results of some new collaborative projects with artists and makers towards the end of the year.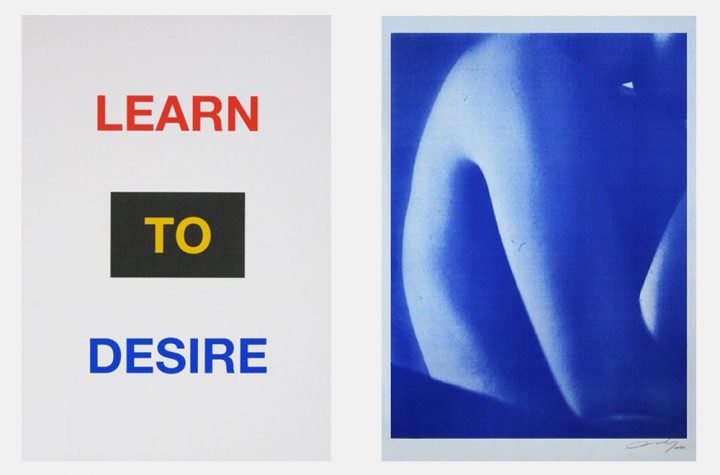 77 Broadway Market – Learn to Desire by John Baldessari. Daisuke Yokota poster, from the series TORANSUPEARENTO.
Which three things do you feel a special connection with in the store right now?
Straw raincoat known as a mino or kappa, traditionally worn by Japanese farmers and samurai to protect them against the elements. I first saw these in Hiroshi Hamaya's 1956 book Snowland. Handwoven with rice straw, and intricately detailed, it's a beautiful example of Japanese folk craft.
Esther Williams miniature swimming pool. It's a traveling salesman sample from America made in precise detail. It has the phrase, "The greatest addition to the home since the family," which is funny. I love anything scaled up or down, or made from an alternative material so it's devoid of function.
In terms of posters, one I'd love to have again and own would be a collaborative poster made for the American choreographer Trisha Brown by Robert Rauschenberg in 1989. They met in the 1960s at Merce Cunningham's New York Studio and both participated in Judson Dance Theater, often assisting one another and performing in eachother's dance productions. The composition of this poster says a lot to me, and the handwritten text also. Beyond that it's just a feeling about what it embodies.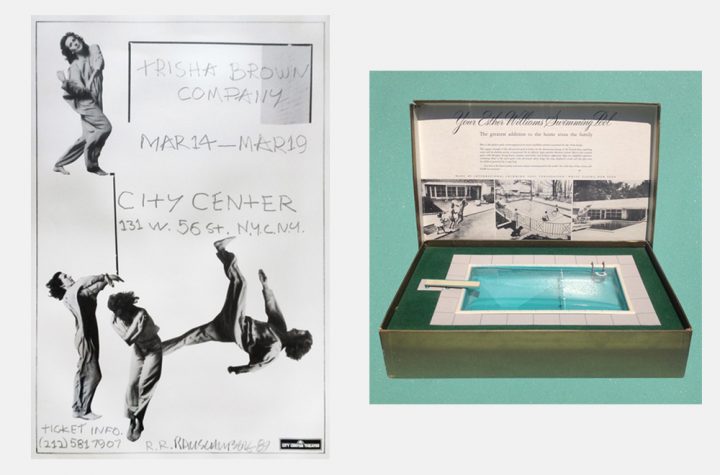 77 Broadway Market – Trisha Brown Company by Robert Rauschenberg. Esther Williams, Miniature Swimming Pool.
Ben Perdue is a fashion and culture writer and editor based in London. He has contributed to publications including AnOther Man, SSENSE, 032c, Arena Homme+ and GQ Style. @benperdue