A List of Useful Recommendations — July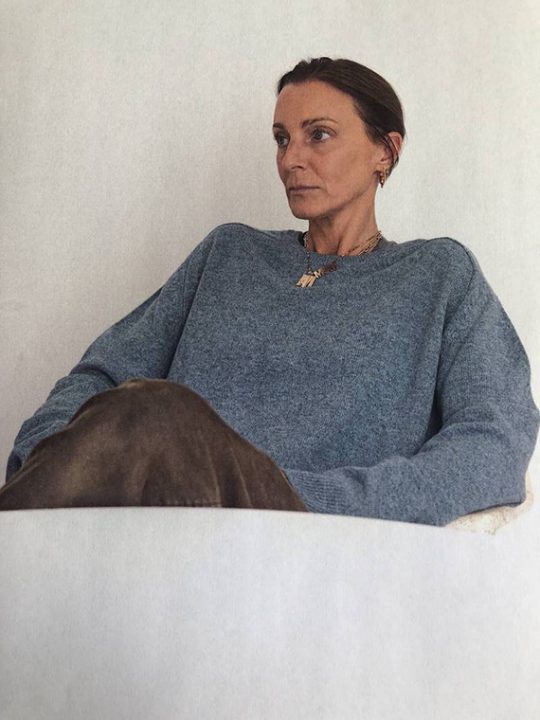 Phoebe Philo via The Business of Fashion
— A sense of optimism comes with the announcement of Phoebe Philo's return. Her independent line will be rooted in "exceptional quality" and with LVMH owning just a minority stake, Philo is free "to govern and experiment" as she sees fit. We cannot wait to see Philo's new ideas for our new world, from her astute female gaze.
— Max Rocha's new Hackney restaurant Cafe Cecilia opens August 19th. Plan an advance booking, and follow their progress for visual tasters of what's to come from this exciting young chef.
— A summer field trip to Highgate Cemetery will uncover the new commission from Phyllida Barlow. A female artist who began exhibiting at the age of 65 after bringing up five children, and retiring from a career as an art teacher. Her deceptively thrown-together work explores aspects of post-minimalism and is well worth a graveyard hike.
— A less but better approach to activewear is practised by Prism². Multi-functional, multi-fit and sustainably-made, their pieces can be worn as sportswear, underwear or swimwear. Each precisely cut design comes in a tasteful palette of muted colours.
— REN's Ready Steady Glow is a cult toner for good reason. It brightens, hydrates and tightens pores with an exfoliating AHA tonic. We use ours overnight and enjoy the easy-to-use pump on top of the (recycled) bottle.
— Summer desserts are a pleasurable pursuit, especially with in-season fruits. French pastry chef Cédric Grolet's new collection for Zara Home has us keen to attempt his fleur de citron.
— The newly released miniseries on tennis player Naomi Osaka is a sensitive portrayal of this female athlete and her journey of self discovery. Exploring identity, resilience, anxiety and demonstrating both physical and emotional female power (documented prior to her refusal to speak at the French Open press conference).
— Reset is a wellness podcast from executive coach Liz Tran. A weekly half-hour series that offers helpful tools for living a good life from a spiritual lens. Her most recent episode 'Dump Your Inner Critic!' is a great introduction into ways to shift our negative internal self-talk.
— The Odds is a new vegan deli and natural wine shop on Choumert Road, Peckham. The popular mezze bowl is an ideal summer lunch, complete with sparkling natural wine.
— There are some organic cotton pieces at COS worth some consideration. This hand-dyed tie-dye t-shirt, and the perfect grey tracksuit pants made from recycled organic cotton.
Related Content
Related Content